Redman Award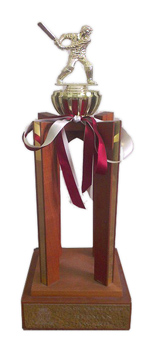 The original concept behind the Redman Award was founded by the A Grade Captain/Coach, Dennis Murcott, towards the end of the 1980/81 season. The back pages of the A Grade scorebook from that season is covered with calculations, which totalled points for runs and wickets, however it seems that despite a winner being found (Jack Prest with 769 points), the decision was made … "No premierships, no Redman"!
Thus the first official winners were announced at the end of the 1981/82 season and the picture below shows the first version of the award being presented. The award continued to be presented annually and in 1985/86 the perpetual trophy (photo above) was created and presented for the first time.
Over the years the calculation method to establish a winner has gone through a number of changes, with various points systems covering; runs, wickets, fielding, training attendance and even social attendance. With the introduction of the Limited Overs Competition, for a brief period the Club presented separate awards for 2-day and 1-day players.
Today, the Redman Award is awarded based on points allocated by the captains after every minor round game. Captains vote 3-2-1 for 2-day grades and 1.5-1.0-0.5 for 1-day games. Points awarded take into account influence on game, game statistics, attitude and behaviour on the field and temperament and sportsmanship. Previous winners of this award are:
1981/1982
Michael R. Arnoul / Dennis R. Murcott
1982/1983
John S. "Jack" Prest
1983/1984
John S. "Jack" Prest
1984/1985
John S. "Jack" Prest
1985/1986
Dennis R. Murcott
1986/1987
Anthony B. "Tony" Draper / Greg D. Sanders
1987/1988
Geoffrey N. Pearce
1988/1989
Geoffrey N. Pearce
1989/1990
Peter L. Sobels
1990/1991
Andrew N. Winter
1991/1992
Anthony B. "Tony" Draper
1992/1993
Samuel R. Pontifex
1993/1994
Samuel R. Pontifex
Greig P. Graham (1-day)
1994/1995
Andrew K. Olsson
Robert O. Bean (1-day)
1995/1996
Samuel R. Pontifex
Phillip C. Glatz (1-day)
1996/1997
Samuel R. Pontifex
John A. Turner (1-day)
1997/1998
Benn Cadd
Greig P. Graham (1-day)
1998/1999
William M. Rayner
1999/2000
Benn Cadd
2000/2001
Marcus O. Wills
2001/2002
Christopher R. Drew
2002/2003
Benjamin D. Allen
2003/2004
Marcus O. Wills
2004/2005
Simon T. Butler / Matthew G. Christophers
2005/2006
Simon T. Butler / Gregory P. Carmody
2006/2007
Christopher R. Drew
2007/2008
Christopher R. Drew
2008/2009
Matthew D. Thomas
2009/2010
Christopher R. Drew
2010/2011
Ryan J. Winter
2011/2012
Jack A. Zacker
2012/2013
Benjamin N. Lobban
2013/2014
David J. Larkins
2014/2015
Jack A. Zacker
2015/2016
Jack Dent / Hamish I. Latchford / Alexander Marantos / Jack A. Zacker
2016/2017
Jack Dent / Alexander Marantos
2017/2018
Jack Dent
2018/2019
Jack G. Latchford
2019/2020
Maximillian T. Clarke
2020/2021
Nicholas J. Clayfield
2021/2022
Gary J. Branford
2022/2023
Nick Brown