Major Awards
Jump to: Redman Award Moffat Family Trophy Mark Schwartz Award Ted Norman Cup Murray M. Wellington Award Olsson Family Trophy
Ted Norman Cup
for A-Grade Batting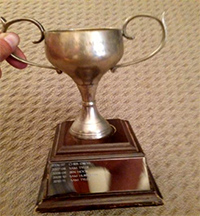 The Ted Norman Cup is awarded in honour of the late Arthur Edward "Ted" Norman.
Ted was born in 1922 and attended PAC from 1935 until 1940. Ted played approximately 30 seasons for PAOCCC until retiring at the end of season 1984/85 (although Ted did fill in for one game in 1987/88 and 1988/89). Ted subsequently came out of retirement at the age of 69, playing 8 games in 1991/92 and 6 games in 1992/93. At the age of 73, Ted played in the Past versus Past Competition ("Stormy Waters Cup") at Tregenza Oval (as pictured below).
Ted was A-Grade captain in 1958/59 (with Chester Bennett) and 1959/60. Ted won five batting trophies - 2 in the A-Grade (1953/54 and 1955/56), 1 in the C-Grade (1965/66) and 2 in the D-Grade (1976/77 and 1979/80). Ted's highest score was 140 in 1955/56 and he was a part of the B-Grade A5 premiership in 1967/68.
Ted's career with PAOCCC spanned 247 games (fourth in games played behind Andrew Olsson, Greg Sanders and Andrew Heitmann) and in addition to being a PAOCCC life member, Ted is a 15 year life member of ATCA.
This award commenced following the passing of Ted in November 1997. Previous winners of this award are:
1997/1998
Phillip M. Schultz (308)
1998/1999
Benn Cadd (322)
1999/2000
Benn Cadd (401)
2000/2001
Andrew J. McEvoy / Phillip M. Schultz (358)
2001/2002
Christopher R. Drew (354)
2002/2003
Alexander Marantos (379)
2003/2004
Marcus O. Wills (415)
2004/2005
Matthew G. Christophers (374)
2005/2006
Gregory P. Carmody (353)
2006/2007
Christopher R. Drew (347)
2007/2008
Samuel Tyler (352)
2008/2009
Benjamin J. Hook (548)
2009/2010
Samuel C.H. Hurburgh (454)
2010/2011
Samuel Tyler (389)
2011/2012
Keagan L. English (590)
2012/2013
Samuel C.H. Hurburgh (458)
2013/2014
Gregory P. Carmody (322)
2014/2015
Thomas E.F. Brinsley (592)
2015/2016
Thomas E.F. Brinsley (396)
2016/2017
Jack Dent (325)
2017/2018
Keagan L. English (534)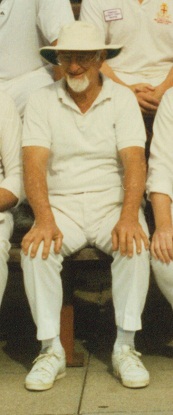 Ted Norman (pictured above) was a part of the Olsson –Moffat team that was one of the four sides that played in the Past v Past day at Tregenza Oval on Sunday 23 February 1997