Major Awards
Jump to: Redman Award Moffat Family Trophy Mark Schwartz Award Ted Norman Cup Murray M. Wellington Award Olsson Family Trophy
Murray M. Wellington Award
for A-Grade Bowling
The A-Grade Bowling Award started in 2008/09. The Award is named after the late Murray M. Wellington.
Murray started playing for the club in 1947/48 and became a life member of both PAOCCC and ATCA (15 years playing life membership).
Murray was a leg-spin bowler who bowled mainly top spinners and under spinners. Murray bowled with excellent flight but was also very deceptive with his speed.
Murray accumulated over 300 wickets and 2,000 runs, winning 6 A-Grade bowling trophies (1954/55, 1957/58, 1958/59, 1959/60, 1960/61, 1961/62) and 2 A-Grade batting trophies (1947/48 and 1959/60). Murray was also A-Grade captain for three seasons (1948/49, 1949/50, 1950/51).
Off the field, Murray also served PAOCCC as Club secretary for three seasons (1958/59, 1959/60, 1960/61). Club legend, Murray Olsson described Wellington as an icon of the Club in the early days. Chad Parrish was the inaugural winner of the Award.
Previous winners of this award are:
Murray M. Wellington Award
2008/2009
Chad M. Parrish (29)
2009/2010
Christopher R. Drew (30)
2010/2011
Matthew D. Thomas (27)
2011/2012
Timothy P. Boucaut / Samuel R. Richardson (34)
2012/2013
Timothy P. Boucaut (40)
2013/2014
Timothy P. Boucaut (26)
2014/2015
Jack Dent (31)
2015/2016
Jack Dent (33)
2016/2017
Jack Dent (42)
2017/2018
Jack Dent (34)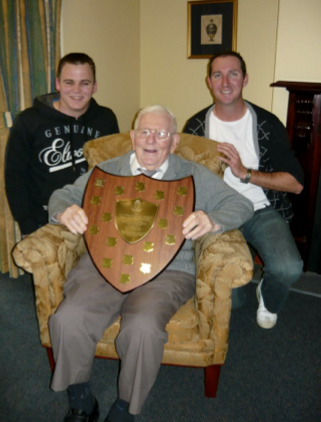 The late Murray Wellington pictured with inaugural winner Chad Parrish (right) and PAOCCC Treasurer Brad Weidenhofer after the 2008/09 season (left)