Major Awards
Jump to: Redman Award Moffat Family Trophy Mark Schwartz Award Ted Norman Cup Murray M. Wellington Award Olsson Family Trophy
Mark Schwartz Award
for Best 21 and Under Player of the Year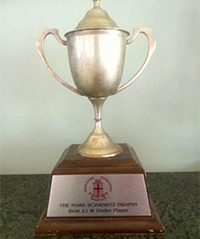 The Mark Schwartz Award started in 2003/04 and is dedicated in memory of the late Mark Schwartz.
Mark Schwartz was a man of strong intellect, of high achievement and with a well-developed sense of humour. He was a fine leader on the sporting field and elsewhere and a gregarious team member. At the same time he had a retiring and almost self-deprecating side.
He attended Prince Alfred College between 1962 and 1969 and was a prefect in the school's centenary year 1969.
For much of his 46 years he fought against an inherent shyness. He would never push himself forward with a sense of self-importance or to the detriment of others.
His funeral service in the filled-to-overflowing Eric Freak Chapel at PAC was only a boundary away from the centre wicket where he had opened countless innings for the school's cricket team, including three annual inter-collegiate matches against St Peter's College. He was also renowned on the football field for his determination, courage and commitment.
After gaining a place in the Shell Schoolboys' Cricket Team of the Year he played district cricket for Kensington, University and Sturt and was a member of the State practice squad.
He also played senior colts and reserves football for Sturt, Amateur League football for University and was named in the All Australian Amateur team in 1976. He captained an SA Amateur team which defeated WA at Football Park as a curtain-raiser to an SANFL interstate match. Mark played in University A1 premiership football teams in 1974 and 1975, was captain between 1977 and 1979, was club best and fairest in 1975, was President and Chairman of the Adelaide University Football Club between 1985 and 1995 and a Life Member. News that the 'Blacks' won the 1999 Amateur League premiership was one of the last items communicated to him just before his death from leukaemia.
Mark cricketing career with PAOCCC spanned five seasons for PAOCCC in the late 1980's and early 1990's.
Mark won the A-Grade batting trophy in 1988/89 and was A-Grade captain in 1990/91 and 1991/92.
Mark was renowned for his positive spirit and his leadership abilities helped the Club immensely through this time. Mark's family and the Committee decided that the award would go to the Best 21 and Under Player of the Year.
A shortlist of candidates is voted on by the Committee, taking into consideration some or all of the following criteria:
Club member & player
21 years and under
Training attendance/commitment
Game stats
Redman points
Previous winners of this award are:
2003/2004
Bradley R. Weidenhofer
2004/2005
Matthew D. Thomas
2005/2006
Matthew L. Davis
2006/2007
Timothy P. Boucaut
2007/2008
Samuel D. Pick
2008/2009
Drew R. Clayfield
2009/2010
Hamish W. Eske
2010/2011
Jordan W. Walsh
2011/2012
Keagan L. English
2012/2013
Max K.F. Burford
2013/2014
Simon R. Bean
2014/2015
Simon T. Brown
2015/2016
Hamish I. Latchford
2016/2017
Thomas R. Spearman
2017/2018
Joshua N. Bean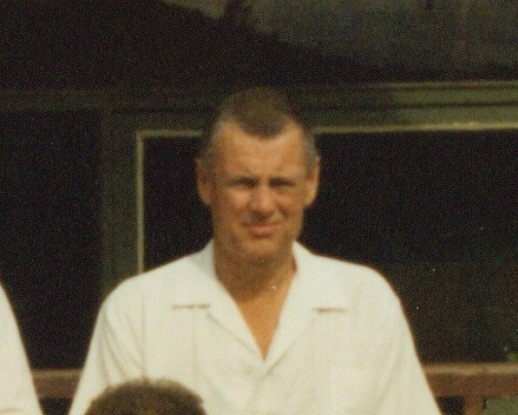 Mark Schwartz (pictured above) was a part of the Olsson - Moffat team that was one of the four sides that played in the Past v Past day at Tregenza Oval on Sunday 23 February 1997